Our Clergy Team
Our clergy are always available to meet with members of the congregational family. The spiritual and personal needs of every congregant are their main concerns. Our clergy visit members in local hospitals, at nursing homes as well as those who are home bound. Our Rabbis and Cantor are always available to meet Temple Israel's pastoral needs.
The Temple Israel Bimah exudes the spirituality of Jewish Prayer. Jewish music, prayer, and humor are utilized to share the strength of their faith and to help us all draw upon God's healing power. Challenging sermons, thoughtful Torah study and personal leadership offer each of us the insights of over two thousand years of Rabbinic teaching.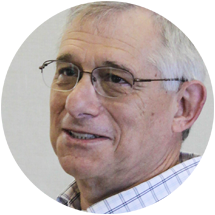 Howard Siegel (email) became Rabbi of Temple Israel in August 2019. He holds a Bachelor of Science in Education from the University of Minnesota (1970), a Bachelor of Hebrew Literature from the University of Judaism in Los Angeles (1974), a Master of Arts in Judaica (1976) and rabbinical ordination from the Jewish Theological Seminary (JTS) in New York (1978). He was awarded a Doctor of Divinity (honoris causa) by JTS in 2005.
Rabbi Siegel's professional accomplishments include serving as a pulpit rabbi in Vancouver, BC, Minneapolis, MN, and Houston, TX. He was also the founding director of the Solomon Schechter Day School of St. Louis in 1981. He has staffed and directed Jewish summer camps, served as a chaplain in the U.S. Navy, and began his career teaching speech and English in a Portland, Oregon public high school. Rabbi Siegel founded the Jewish Information Center of Houston in 2003 as an outreach to unaffiliated Jews. During the past decade, Rabbi Siegel has served as an interim rabbi in Los Angeles, CA, San Antonio, TX, Vancouver, BC, and most recently Tampa, FL. Rabbi Siegel's honors include The Rae & Edmund Hecht Houston Jewish Community Rabbinic Award, Congressional Recognition for Work with Hunger & Homelessness, Hennepin County (MN) Award of Distinction for Work with Hunger, and the Lillian M. Lowenfield Prize in Practical Rabbinics from JTS.
Shira Lissek (email) became Cantor of Temple Israel in July 2018 after previously serving as Associate Cantor of Park Avenue Synagogue in NYC since 2013. Cantor Lissek earned a Masters in Music from the Manhattan School of Music, where she majored in Voice as a merit scholar, and holds a Bachelor's Degree from Indiana University School of Music in Vocal Performance. Born and raised in St. Louis, MO, she learned the art of being a Cantor from her father, Cantor Leon Lissek of Congregation B'nai Amoona. She is also the granddaughter of the late Rabbi Pinchas Chasin of Philadelphia and great-granddaughter Hazzan Hirsch L. Chazin of New Jersey. She began serving as Hazzan Sheni at age 19, when she was invited to lead High Holiday services for Congregation Beth Shalom of Kansas City and then Congregation Gesher Shalom (The Jewish Community Center of Fort Lee, NJ). Prior to Park Avenue Synagogue, she served as Hazzan and Music Director of Congregation Mount Sinai in Brooklyn Heights for six years.
Murray Ezring serves as Rabbi Emeritus, was the spiritual leader of Temple Israel for 25 years before retiring in June 2019. A native of Rock Island, Illinois, he received his Liberal Arts Degree in History and Social Studies from the University of Illinois. Rabbi Ezring received his MA and ordination from the Jewish Theological Seminary (JTS), taking his first pulpit in Oakhurst, New Jersey for ten years, followed by six years in Boca Raton, Florida.
Elias Roochvarg serves as Cantor Emeritus, having retired from Temple Israel in June 2018 after serving as Cantor for 23 years. A native of NJ, he earned his Bachelor's Degree in Music Education from UNC-Chapel Hill, and his Masters Degree in Voice from Boston University. He received his cantorial training at the Hebrew Union College - Jewish Institute of Religion, and spent three years at the college's Jerusalem campus, the last two of which he served as Cantor and Music Director. Cantor Roochvarg previously served as Cantor for 15 years at Congregation Beth Israel in Owings Mills, MD. He has performed and lectured widely at venues including The Smithsonian Institution. He and his wife Linda have three children, Aaron, Miriam and Michael.
Wed, June 3 2020 11 Sivan 5780